Celebration of Woman Farmers in Berks, Chester, Montgomery Counties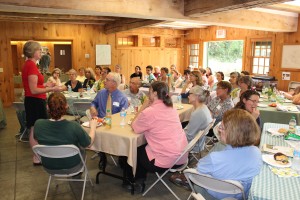 Making cheese was not always in the plans for Sue Miller of Chester Springs. She and her husband were milking cows and growing crops, but needed to do something else to "save the farm" with the rising costs, slimmer margins, and nearby urban sprawl. Waking up from a dream one morning, she popped out of bed and said, "I need to make cheese!" and she hasn't looked back since.
More than 43 women from Chester, Berks, and Montgomery Counties came out to celebrate woman farmers and the impact they have on the agriculture industry in Pennsylvania. The luncheon was held at the Natural Lands Trust's Crow's Nest Preserve in Elverson, nestled neatly on the Berks and Chester County line.  Miller kicked off the program telling her story of how she got started farming, and how her farm business has evolved over the years to meet the demands of the local food system.
Neither Sue nor her husband, Ken Miller, grew up on a farm, but knew they wanted to live the lifestyle when they first started milking cows just a few decades ago. They started out milking a small herd of cattle and growing field crops to feed their stock. They relied on the highs of the commodity markets to help them through the lows, and quickly found they needed to do something to add value to the farm if they wanted to keep their farm in Chester Springs. She did research and found there were many workshops in California and Vermont, but few nearby. Soon she found the Pennsylvania Association for Sustainable Agriculture (PASA) was hosting a local cheesemaking workshop. The workshop was full, but Miller said, "I have to get in. The future of our farm depends on it!"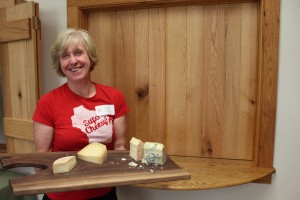 Miller is now known throughout Philly and its suburbs for her incredibly delicious raw milk cheeses. She and her husband still crop the land, and their sons help out, too, and have added other enterprises to the farm including veal and whey-fed pork. She is looking forward to updating and expanding their cheesemaking facility very soon.
Sue Miller was joined by other speakers who focused on the importance of farming, preserving the landscape, and woman farmers in Southeastern PA. Molly Morrison, President of Natural Lands Trust, spoke about her time growing up on her grandparents farm and how that experience initiated her passion for preserving the landscape and her work now with Natural Lands Trust. Carol DeWolf, director of the Schuylkill Highlands Initiative spoke about the importance of networking and collaboration to preserve the landscape within the Schuylkill Highlands region, and about the Crow's Nest Preserve where the luncheon was held.
The event was organized by AgConnect, the agriculture partnership of the Chester County Economic Development Council. Jodi Gauker, Agriculture Project Manager of CCEDC and AgConnect, spoke on behalf of the PA Women's Agricultural Network that spearheaded the Woman Farmer Day recognition in Pennsylvania, and how her experience has a farmer's wife and farmer herself has helped her in her role with CCEDC, connecting farmers to the resources they need to grow their business, and encouraging students to explore and consider careers in agriculture, including but not limited to farming.
Funding for the luncheon was provided by a grant from the PA Department of Community and Economic Development's Discovered in PA, Developed in PA program and supporting funds from the Natural Lands Trust and Schuylkill Highlands Initiative.
AgConnect, an initiative of the Chester County Economic Development Council, is a network of farmers, business owners, educators and service providers connecting farmers to business resources, training, and financing to grow business and promoting smart agricultural economic development. AgConnect is a regional private-public partnership serving Berks, Bucks, Chester, Delaware, Montgomery, and Philadelphia Counties supported with funds from Bucks and Chester County Workforce Investment Boards and the PA Departments of Agriculture, Community and Economic Development and Labor and Industry.
The Chester County Economic Development Council is a private, non-profit economic development organization promoting smart growth in Chester County and the surrounding region for over 50 years. The CCEDC provides proven financing solutions, cultivates workforce talent, leverages business partnerships, and fosters entrepreneurial collaboration. Together, with the support of the private and public sectors, CCEDC initiates,implements and innovates programs that improve the business community and enhance the quality of life in Chester County. For more information, visit our website, www.cceconomicdevelopment.com.