More Than 300 Youth Explore Careers in Agriculture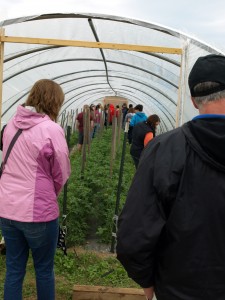 USDA's National Food Institute of Food and Agriculture reports there are an estimated 54,400 job openings in agriculture, and not enough graduates to fill those positions. In Chester County, a partnership between the Workforce Investment Board and Economic Development Council is helping students explore those careers and attract them to the agriculture industry. During the 2013-14 school year, 306 students studying agriculture or environmental science at five Chester County and four Berks County schools had the opportunity to explore careers in agriculture through field trip showcases developed by AgConnect.
Students from Avon Grove Charter School, Octorara Area High School, and the three Technical College High Schools – Brandywine, Pennock's Bridge and Pickering campuses studying animal or plant science, agriculture mechanics, environmental science, and culinary arts had the opportunity to learn about careers in agriculture through career showcases hosted throughout Chester County. Avon Grove Charter School students learned about nursery crops and organic vegetable production at North Creek Nurseries and Rambling Roots Farm. Octorara Area High School students visited September Farm to explore cheesemaking, Nomadic Pies to learn about value-added agriculture, John C. Leo and Son to learn about mushroom production, and Longwood Gardens to explore horticulture careers.
Animal science students at all three Technical College High School campuses ventured out of the classroom for showcase opportunities. Students from the Pickering Campus compared dairy production methods of Seven Stars Farm and Kolb's Dairy Store. Pennock's Bridge students learned about beef production at Lisnageer Farm and race horse production at Walnut Green Farm. Students from the Brandywine Campus discovered the education and skills needed to work in a veterinary facility at the University of Pennsylvania's New Bolton Center.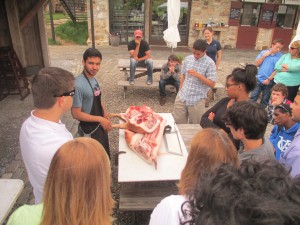 Culinary arts students at Technical College High School's Pickering Campus learned more about the farm-to-table concept through a live hog butchering demonstration at Wyebrook Farm. The farm's butcher, Alexi, showed students how to break down half of a hog into cuts they would cook in restaurants and how the way an animal was raised affects the fat content and quality of the meat.
New this year, AgConnect supported four career showcases for 97 students in Berks County Schools: Kutztown Area High School, Hamburg Area High School, Twin Valley High School, and Oley Valley High School. Kutztown students explored S-Pine-Lawn Dairy Farm in Fleetwood and Butter Valley Harvest hydroponic vegetable farm in Bally. Hamburg students visited Giorgi Mushroom Co. to learn about mushroom production, and Appeeling Fruit to learn about apple processing. Twin Valley High School students explored horticulture careers at Longwood Gardens. Oley Valley High School students visited Veg-E Systems, a vertical hydroponic vegetable farm in a strip mall in Doylestown and Delaware Valley College to learn about their equine animal science programs. AgConnect funded busing, substitute teachers, and STEM career information for the students and teachers.
Funding for the field trips was made possible through grants from the PA Department of Environmental Protection's Environmental Education Grant Program, CCRES, Chester County Workforce Investment Board (WIB), and the PA Educational Institution Tax Credits (EITC).
AgConnect, an initiative of the Chester County Economic Development Council, is a network of farmers, business owners, educators and service providers connecting farmers to business resources, training, and financing to grow business and promoting smart agricultural economic development. AgConnect is a regional private-public partnership serving Berks, Bucks, Chester, Delaware, Montgomery, and Philadelphia Counties.
The Chester County Economic Development Council is a private, non-profit economic development organization promoting smart growth in Chester County and the surrounding region for over 50 years. The CCEDC provides proven financing solutions, cultivates workforce talent, leverages business partnerships, and fosters entrepreneurial collaboration. Together, with the support of the private and public sectors, CCEDC initiates,implements and innovates programs that improve the business community and enhance the quality of life in Chester County. For more information, visit our website, www.cceconomicdevelopment.com.